The easiest way to illustrate the value of insurance.
Bring to life important messages with powerful video marketing that helps to attract, retain and convert clients.
Monthly Video Newsletter
Consistent communication without lifting a finger.
Social Media
Unlimited '2 click' posting to Facebook & LinkedIn.
Super Signature
Turn every admin email into a marketing email using a video signature.
Website Videos
Get our full collection of videos on your website for clients and prospects to watch.
Videos on Demand
Access any video for a sales presentation or to send instantly branded to you.

Starter
$99
$49
user/month
Unlimited Social Sharing
Unlimited Web Videos
Full Use Licence
Text Message Videos
Unlimited Presentation Videos
Premium
$149
$99
user/month
Unlimited Social Sharing
Unlimited Web Videos
Full Use Licence
Text Message Videos
Unlimited Presentation Videos
Company-wide monthly video newsletter with reporting
Company branded account for general use included
* Note all prices are excluding GST and additional MailChimp costs may apply if your database is over 2000 contacts.
Easily communicate your value to your biggest asset.
Retain
Keep your clients engaged so they don't leave.
Engage
Reignite previously lost prospects to come back.
Ringfence
Unearth new opportunities in your client base.
Comply
Consistent communication is vital with future changes.
Refer
Drive new client meetings from people who already trust you.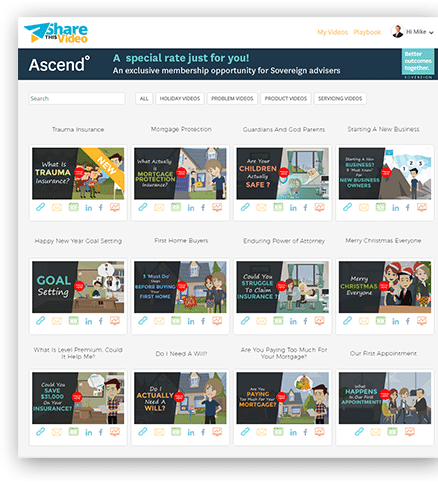 "Before ShareThis.Video we still sent newsletters, personalised anniversary letters, made phone calls to clients along with updated Social Media content, however, it was time-consuming to put together and search for the ever-changing and relevant content. ShareThis.Video has given us a library of content to use with clients. In one of our first mailouts, we received 2 quality opportunities from existing clients that were being asked the question in a different way. Most people are Visual so we find this another great way of sharing ideas with our clients"
Keith Kerr, Financial Solutionz

"We sent the KiwiSaver campaign out and had 7 enquiries, 4 already have been signed up – these videos are great for cross-selling"
Rohit Ranchhod, Smart Brokers
Happy Clients Refer More
As a FREE BONUS you get access to 4 high-quality 'sales process' videos. They have been researched and created to help close deals quicker by putting the client at ease each step of the way. You can easily add these into your CRM to go out at just the right time you need them! Click each to watch below.
Once I Sign Up What Happens Next?
We have bottled our process into 5 easy steps to get you started. It is designed to not take much time, put your personal touch on our service and let us do the heavy lifting.